Key words: mobile signal booster, signal repeater, signal amplifier
Frequency Range:890-915Mhz 1920-1980Mhz/935-960Mhz 2110-2170Mhz
Color:Black
Suitable:Home use
Cellular Networks:2G/3G
Coverage:100-300 square meter
Warranty:3 years
RF connectoer:SMA-Female
Gain:65dB
Power Supply:AC:100~240V
Place of Origin:CN;GUA
Model Number:NB-GW 900/2100 mobile signal booster, signal repeater, signal amplifier
Type:2/3G mobile signal booster, signal repeater, signal amplifier
Brand Name:ATNJ mobile signal booster, signal repeater, signal amplifier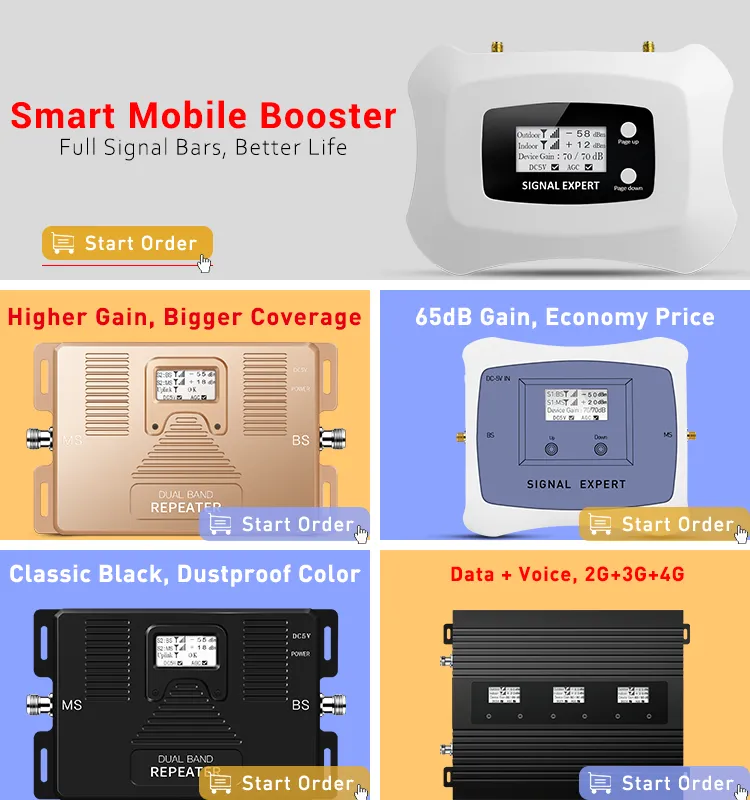 900/2100mhz Cellular Networks 2g 3g mobile signal booster
Signal Booster Features
• Full smart to display all the parameters of the system. Automatic to detect the faults of the device and provide the corresponding solution.
• Automatic to shut down the power supply of the screen when no operation on it.
• Automatic detect the distance between receive antenna and relay antenna, avoid device auto excitation
• Automatic to adjust the system gain, The adjustment range up to 55db.
• High speed digital ALC system
• LCD screen display input/output real signal strength
• Automatic dormancy when no user make the calling, once detected the the user make the calling, the device will automatic switch to working status immediately.
• Uplink automatic shut off when device detected self-excitation.
• Uplink noise elimination. Did not interference base station absolutely.
• Small size, light weight, good looking, high gain, low power loss.
•Super intelligent display to guide the installation, Provide the easiest and simplest installation solution.
Signal Booster Technical Specifications
mobile signal booster SPECIFICATIONS

mobile signal booster parameters

Frequency Range (Customers to Choose)

Uplink

890-915Mhz & 1920-1980Mhz

Downlink

935-960Mhz & 2110-2170Mhz

Frequency Bandwidth (3dB Bandwidth)

25Mhz & 60Mhz

Gain

70dB

Automatic gain control (Step Attenuation)

31dB @ 1dB/ Step

Auto Gain Control

20dB Min.

Output Power(Customers to Choose)

20dBm

Spurious Emission

≤ -15dBm/30kHz

9kHz~1GHz: ≤ -36dBm/30kHz

1GHz~12.75GHz: ≤ -30dBm/30kHz

Inter-Modulation Attenuation ACPR

≤ -40dBc / 30kHz (measured under rated output power)

In-band Ripple

≤ 3dB

VSWR

<=2

I/O Impedance

50 Ω

Noise Figure

≤ 5dB

System Delay

≤ 5μs

RF Connector(Customers to Choose)

SMA (Female)

Operating Temperature

Operation: - 10°C ~ + 55°C / Storage: -20°C ~ +60°C

Power Supply

AC 110~220V±20%, 50/60Hz(AC 220V/ DC5V/2A power adapter)

Dimensions

165*130*40 (mm)

Weight

≤0.8 kg(Net)

Alarm Monitoring System

Alarm for uplink self-oscillation

Indication LED

Power supply