Key words: signal repeater
Suitable:global applicatioin for home/office/apartment... use
Frequency:791-821MHZ /832-862MHz
Cellular Networks:2g/3g/4g
Color:White/Blue
coverage:100-300 square meter
weight:0.3kg
size:160x100x27mm
Gain:70dB
Warranty:3 Years
Place of Origin:CN;GUA
Type: signal repeater, mobile signal booster
Brand Name: ATNJ
Model Number: AS-800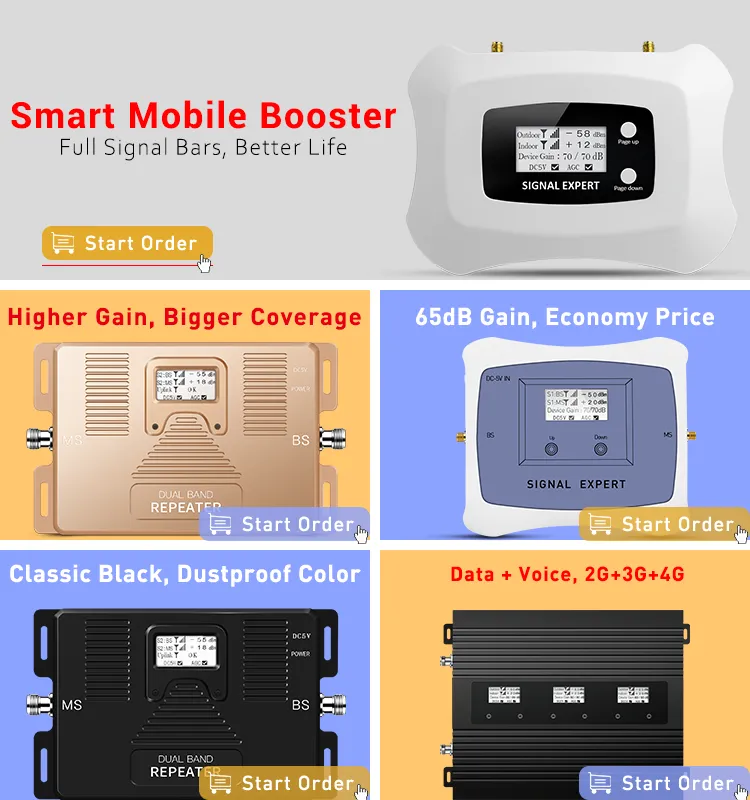 Global application ATNJ factory LTE 800MHZ 4G mobile signal booster
4 colors for your selection:
LTE 800MHZ Pico repeater is applied specifically in small area indoor DAS system. The base station signal is coupled and amplified by Pico repeater into in building system. The amplified signals is transmitted by indoor antenna. Meanwhile the indoor antenna receives the cell phone signal, and send the signal to the base station as uplink. This method can eliminate the signal dead spot, reject the interference, provide the stable signal communication for cell phone users. This Pico signal repeater mainly solves the problem spot problem in building. The coverage area is as large as 3000 square meters in open space, and 1000 square meters in partial obstacle area, 500 square meters in complete obstacle area. The edge power level for coverage area is above 85dBm. The repeater output power level is less than 20dBm.
Pico repeater is a bi-directional amplifier that allows for the reception of signals, amplifies the signal and re-transmits into areas where there is no or very low signal level coverage enabling a mobile user to establish a call connection.
Pico repeater can be deployed in indoor coverage and dead area. It is especially advantageous to use in 100M2-1000M2,which is a very economical solution. The signal repeater output power is up to 20dBm per carrier.
Meanwhile, it can also boost the speed of GPRS.
Signal Booster Packaging & Shipping
1,GSM900 BOOSTER ×1
2,POWER ADAPTER×1
3,STICK ANTENNA×1
4,PENHOLDER ANTENNA×1
5,16M CABLE×1
6,MOUNTING ACCESSORIES
Signal Booster Technical spec.
LTE 800MHZ

PCS1900MHZ

GSM900 MHZ

DCS1800 MHZ

3G2100MHZ

UL791-821MHz

DL832-862MHz

UL1850-1910MHz

DL1930-1990MHz

UL890-915MHZ

DL935-960MHZ

UL1710-1785MHZ

DL1805-1880MHZ

UL1920-1980MHZ

DL2110-2170MHZ

mobile signal booster Gain

70dB

Automatic Gain Control( AGC)

30dBm

Noise Figure

4dB

Gain Flatness

5dB (p-p),

Automatic Gain Control (1dB step)

30dB in step of 1dB (Auto)

Maximum Output Power

UL:10-20dBm DL:15-27dBm

Input power range

-55 dBm~-15 dBm

Intermodulation Products

9KHz~1GHz

-36dBm @ 3KHz

1GHz~12.75GHz

-30dBm @ 3KHz

Spurious Emission

9KHz~1GHz

-36dBm @ 3KHz

1GHz~12.75GHz

-30dBm @ 3KHz

Group Delay

UL:1μs

AC POWER

AC 95-250V

Adapter output power

DC5.0V

Temperature range

-25℃~+55℃

Relative humidity

<80%

RF interface

SMA-F

Power interface

KLD-35-13

Weight

≤0.3kg

Size-mobile signal booster

160×100×17mm

1,Intelligent to guide the installation with LCD
2,Real time display the signal strength.
3,Automatic dormancy when no user make the calling
4,initiative reminding when device damaged
5,Automatic detect the installation mistake and provide the corresponding solution with LCD
Signal Booster Product Description