Key words: mobile signal booster, signal repeater, signal amplifier
Suitable:global applicatioin for home/office/apartment... use
Frequency:1710-1785MHZ /1805-1880MHz ,1920-1980MHZ/2110-2170MHZ
Cellular Networks:dcs/wcdma
coverage:100-300m2
weight:1.5 kg
Size:225x140x35 (mm)
material:aluminium
Gain:65dB
Warranty:3 Years
Place of Origin:CN;GUA
Model Number:NB-DW 1800/2100
Type:3/4G mobile signal booster, signal repeater, signal amplifier
Brand Name:ATNJ mobile signal booster, signal repeater, signal amplifier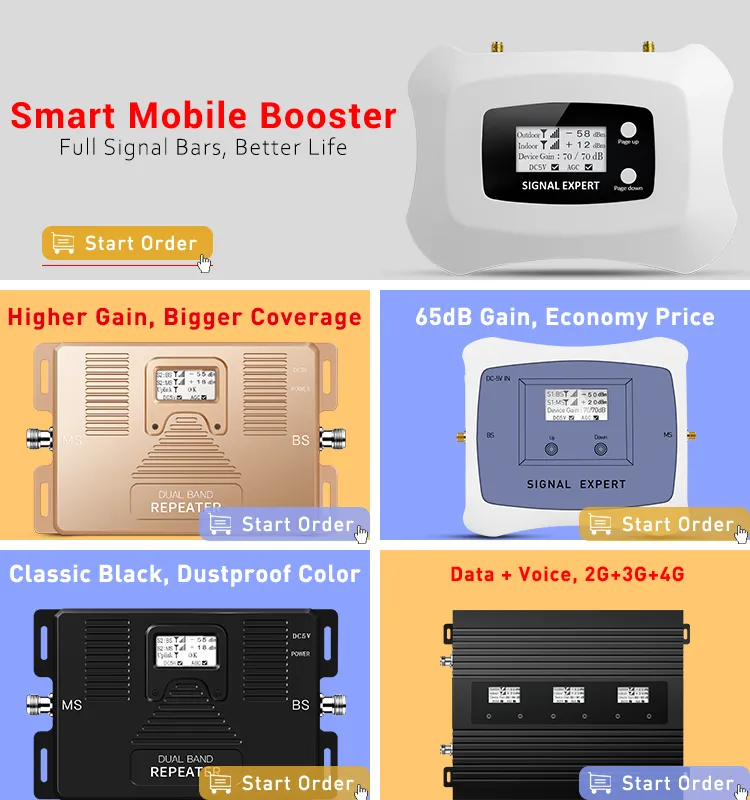 Signal Booster Product Description
Global application ATNJ factory DUAL BAND 1800&2100MHZ 2G/3G/4G mobile signal booster
DUAL BAND Pico signal repeater is applied specifically in small area indoor DAS system. The base station signal is coupled and amplified by Pico signal repeater into in building system. The amplified signals is transmitted by indoor antenna. Meanwhile the indoor antenna receives the cell phone signal, and send the signal to the base station as uplink. This method can eliminate the signal dead spot, reject the interference, provide the stable signal communication for cell phone users. This Pico signal repeater mainly solves the problem spot problem in building. The coverage area is as large as 3000 square meters in open space, and 1000 square meters in partial obstacle area, 500 square meters in complete obstacle area. The edge power level for coverage area is above 85dBm. The signal repeater output power level is less than 20dBm.
Pico signal repeater is a bi-directional amplifier that allows for the reception of signals, amplifies the signal and re-transmits into areas where there is no or very low signal level coverage enabling a mobile user to establish a call connection.
Pico signal repeater can be deployed in indoor coverage and dead area. It is especially advantageous to use in 100M2-1000M2,which is a very economical solution. The signal repeater output power is up to 20dBm per carrier.
Meanwhile, it can also boost the speed of GPRS.
Signal Booster Packaging & Shipping
1,GSM900&3G 2100MHZ BOOSTER ×1
2,POWER ADAPTER×1
3,LOG-PERRIODIC ANTENNA×1
4,CEILING ANTENNA×1
5,16M CABLE×1
6,MOUNTING ACCESSORIES
Signal Booster Technical spec.
SPECIFICATIONS

mobile signal booster Specification

FrequencyRange (Customers to Choose)

Uplink

1710-1785MHz&11920-1980MHz

Downlink

1805-1880MHz&2110-2170MHz

Frequency Bandwidth (3dB Bandwidth)

25MHz&75MHz

Gain

≥ 65dB

Automatic gain control (Step Attenuation)

31dB @ 1dB/ Step

Auto Gain Control

20dB Min.

Output Power(Customers to Choose)

17-23dbm

Spurious Emission

≤ -15dBm/30kHz

9kHz~1GHz: ≤ -36dBm/30kHz

1GHz~12.75GHz: ≤ -30dBm/30kHz

Inter-Modulation Attenuation ACPR

≤ -38dBc / 30kHz (measured under rated output power)

In-band Ripple

≤ 5dB

Voltage Standing Wave Ratio

<=2

I/O Impedance

50 Ω

Noise Figure

≤ 5dB

System Delay

≤ 5μs

RF Connector(Customers to Choose)

N-Type (Female)

Operating Temperature

Operation: - 10°C ~ + 55°C / Storage: -20°C ~ +60°C

Power Supply

AC 220V±20%, 50/60Hz(AC 220V/ DC9V/9A power adapter)

Dimensions

225*140*35 (mm)

Weight

1 kg

Alarm Monitoring System

Alarm for uplink self-oscillation

Indication LED

Power supply, Run,Alarm
Signal Booster Detailed Images